Postscript (P.S.) 2: The Making Of / Behind the Scenes: The Beatles, Moon River, and Madonna ... Is That Really Classical Music, Too?
As I mentioned earlier, probably you are a very conservative classical music fan, and for the youngest kids here is the hint what a postscript is. To the point: Also the significant Westdeutscher Rundfunk in Köln (West German Broadcast in Cologne), a German radio station – WDR – presents popular classical music in a similar way ... as we do! As I discovered only very shortly before an always revised completion of this and other of my websites.
Actually ... on this page of my website and this postscript 2, only those come by who "clicked through" directly to my "Popular Classic Top 100" collection and were shocked to discover "Over the Rainbow" and the theme melody to the movie "Independence Day" there ... and similar works more .... and that – in addition – so very high up in the list. "So far up" ... results from the first letter in the composer's name ... in my list according to the alphabet ... and that fact also bothered me, as you may have already read there.
© WDR, Cologne, Germany, with a thank you for the permission to publish.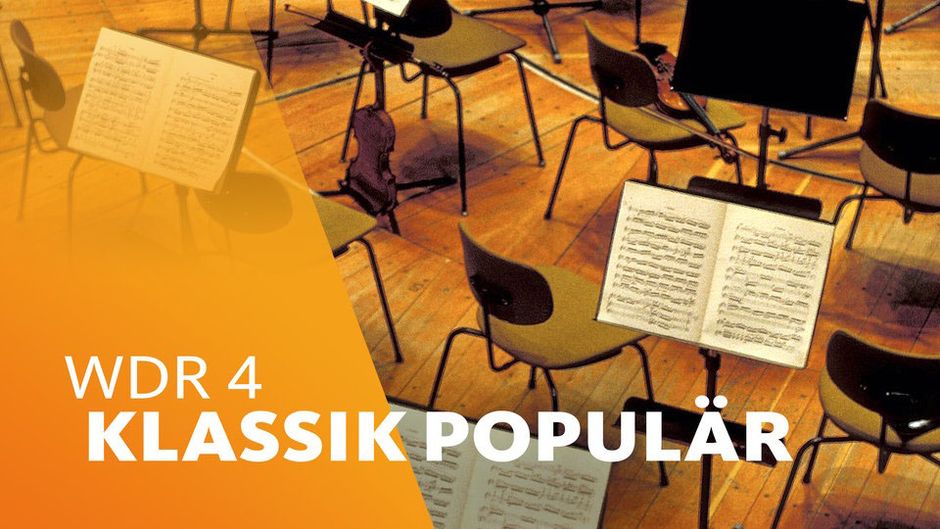 Enthusiasm comes up: WDR 4 also dares to "go on the ice". You get there with a click here (... option 1 with three playlists). And yes ... sorry, it's in German only. But that is no problem at all when it comes to their music offer with work title, artist, and composer ... you actually do not need an English counterpart. Just try it out! The link to 52 more shows is below the next picture. Picture ©: WDR Cologne, Germany.
 © WDR, Cologne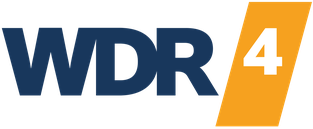 How good that "WDR 4" also offers "popular classical music" in my cross-knitted way. So, I am not the only "exotic" among all the classical music experts. However, I am not ( ! ) a classic expert. Only the specialist for popular classical music. Picture © with many thanks: WDR, Cologne.
Very important: "WDR 4" and I offer different popular classical music, and it is significant that you know the difference! While I have determined the 300 popular classical pieces via Google and YouTube according to their popularity, the WDR 4 and its team approaches via high knowledge within classical music in general. Of course, the results overlap. While the "WDR" with its format offers some 2,000 to 2,500 titles per year, it is "only 300" on my website and not per year, but limited "forever"! The difference for you results – for example – from the fact that the four hundredth popular classical piece is of course – for many people – much less popular than the twentieth. And the thousandth masterpiece is less popular than my hundredth. So the approach of "WDR 4" and me is very similar and yet fundamentally different at the same time. In my collection, I can assume for you that a child or a beginner has already heard many pieces somehow and somewhere. That is definitely not guaranteed with 2,000 tunes. With 2,000+ pieces, there is also a greater and greater chance with each additional one that you will not like them. This is also logical and already starts with my selection of the mentioned 300. "WDR 4" and its specialists serve an even smaller group of people than I do ... and this is also reflected in the length of the program, which covers just two percent of the broadcasting time with this format in three hours per week. It is such fans who like my selection well, but who would like to get more works with this approach. And who then add further favorites to the songs from my "Top 300" among the 2,000 pieces on offer. Or also enjoy the complete offer of "WDR 4" ... for a lifetime. "WDR 4" is an "on top" offer, not an alternative with my approach. Here you now get to a neighboring page of this website, to my "Popular Classical Top 300" and there immediately to the right place. Oh yes, the promise above and the announcement: You can get to a whole 52 broadcasts of "WDR 4 Klassik Populär" with a click here (Option 2).  By the way, 2,000 to 2,500 titles are calculated from my counting of 45 pieces in a playlist times 52 weeks, and then it is of course not always exactly 45!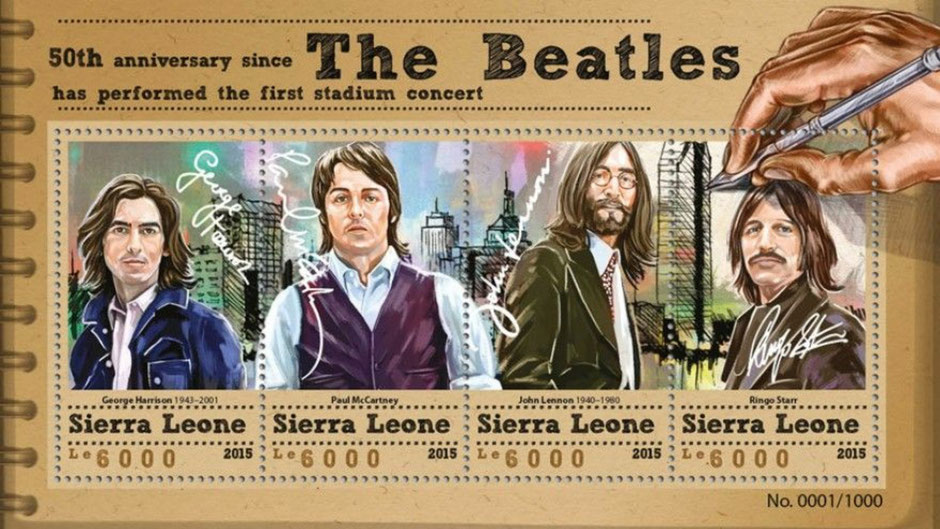 Are some titles of the Beatles already "classical music"? And if yes ... or no ... who decides that?
So, the Beatles Created Classical Music?!
It is today – at the time of writing these lines – almost exactly one month ago, when my wife Renate and I together and only by chance – while zapping – once again passed by André Rieu, and we could still enjoy his complete concert in Maastricht in the Netherlands in time. As mentioned elsewhere on the website, this third concert in three years was exactly the motivation to produce a project I had been thinking about for a long time, namely to compile a collection of popular classical music. At that time, however, I did not know that what I wanted to "collect" was called "popular classical music." I called it at first ... and still today .... light classical music.
For about ten years I had been planning to write to institutions such as the Mozart House in Vienna, the Handel House in Halle, and the Beethoven House in Bonn, and firstly to ask for the most popular melodies of the composers that fit in each case and secondly to ask them to name one or two classical masterpieces by other musicians who created such compositions. That would have – I know from similar researches – led to an enormous expenditure of time and correspondence. André Rieu "showed me a different way" and so the project could begin with a hundredth of the planned time. If you do not like André Rieu at all, please read P.S.1, with a click here.

I wanted to create a website about a subfield of classical music without having any idea about it. From Bach, I knew 33 pieces, from other musicians – together – maybe 20 "by the name". I thought. But via André Rieu and his ability, the way became manageable, much easier, and above all much less time-consuming: And that was finally the plan four weeks later: Search André Rieu on YouTube and then follow the "further suggestions" from YouTube from there. That was the perfect solution. And with André Rieu's performances and the further finds "in the YouTube neighborhood" I found out that classical music goes far beyond Strauss, Bach, and Schubert as well as their famous colleagues: thematically, popularly, and also concerning the creation of a work and then also to its purpose and goal. Beyond the actual core question of the website, namely to define what classical music actually is, I decided to include by all means also titles that today are not comparable with the works of Bach, Mozart, and Beethoven. Or are they?! And I figured out ... that in the course of my life I have actually "already heard" many more classical works than I thought.
Only after almost exactly one month of "production time" to make my idea reality I finally and accidentally found the offer "WDR 4 Klassik Populär" (... a radio station in Cologne, Germany) and due to my "quite limited internet affinity" I asked there if it was possible to listen to this program via the internet ... I needed that for my US website, the matching English-language sister website. By return of post (... is there such a thing with mails?) came the cordial hint that the offer "WDR 4 Klassik Populär" is not a radio station, but a three-hour format, a program, every Sunday. In addition, I got the note that you can listen live on the internet between 7 p. m. and 10 p.m. – so also in the U.S. – but there is no access after the broadcast. The problem? In the U.S., it's between 2 a. m. and 5 a. m. when the show starts here in Germany.

However, the answer from the WDR editorial team became really exciting when they provided me with a hint and a link to the playlist of the last three performances. Until then I only knew the WDR term "Klassik Populär", not the individual titles offered. Because there I discovered a song of the Beatles, the melody of Judy Garland "Over the Rainbow" and a masterpiece of the Italian star composer Ennio Morricone, who died in these days. And with it "a stone fell from my heart": Because what I instinctively and therefore understandably discovered myself and since then provocatively claim, represent and publish on this, my website, the Westdeutscher Rundfunk (WDR) – and there they are, full professionals, in the matter of classical music – did long before me: namely to add younger works from completely different genres of classical music.
I tend to exaggerate in a first enthusiasm and so you also found one title of the Beatles, one of Michael Jackson, and in addition one or other similar more in my compilation. When this "personal round in one of my projects" is finished, after "too much power" always – later – also doubts come up ... and I removed such titles again from the collection, which could press the tears in the eyes of very conservative classical music connoisseurs. After reading the playlist of "WDR 4", however, I became more courageous again and decided – under the term of "young classical music" – to include only a few pieces of music by less current composers again after all. From the first phase of initial enthusiasm, however, my "warnings" have survived ... to this day: There is the "equipment" of the titles with an asterisk ( * ) and with three asterisks ( * * * ) as well as the DCM notes. Plus, in the meantime, there are even finer and even more recommendations.
Likewise, you can clearly read between the positions that I was "not sure of myself". Today, I am thrilled that "WDR 4 Klassik Populär" takes this uncertainty away from me. Again here briefly the reference that "WDR 4 Klassik Populär" is not a radio station, but a program, a format, a show. With this support, I have added another 10 masterpieces to my list: young classical music, which means that in 100 years we will find these pieces as a matter of course next to those of the superstars of the time, Bach, Handel, Beethoven, and Mozart.  By the way, during the final "dive" to find classical masterpieces, young and conservative, I noticed that two conservative works – not yet on my list – reminded me of my childhood. Since I clearly had the living situation with my parents in mind at that time, I was able to assign this memory to my age at that period. This led to the further option of how to "get kids used to" such familiar classical compositions at a young age: Namely, simply play such light, cool classical pieces in the background at home now and then ... for example, at lunch together on Sundays. This is another way of associating them positively later in their school age. And regarding the many title melodies of relatively recent film productions, the following is worth considering: Beethoven, Tchaikovsky with his ballet works, and the Strausses with their waltzes already "invented" music for entertainment.  Even Bach did this besides the creation of his clerical work over many years ... but already 250 to 300 years ago. So why should pieces of the same quality, composed in our decades, not belong to the classical works, to the "young classical music"? Here you get to the offer 1 of "WDR 4" in Cologne: namely regarding one broadcast and three playlists ... plus, you will get to the second offer below the next picture.

As promised, here's the offer No. 2 of "WDR 4" in Cologne: These are exactly 52 weeks of 52 broadcasts of this format ... but without playlists. That's about 40 to 45 titles per program times 52 weeks of popular classical music. That is some 2,000 to 2,500 titles in one year. Only and this is important: You should start with my "Top 300", it is simply the better introduction for children and beginners. Because the 300 most popular classical music pieces are just generally more popular than the  2,000 most popular classical pieces. In fact, think about it! And from there it goes on ...
1     You like neither classical music nor popular classical music. Topic done!
2     My 300 works of popular classical music are great ... they are enough for a lifetime ... again and again in between.
3     You find – in my "Classic Top 300" – your favorite composer and now explore all his work.
4     Popular classical music is cool, but it should be "a little more" than 300 works: Try out "WDR 4 Klassik Populär".   
5     You actually find your way to serious classical music after my "Classic Top 100" or after the "combination with WDR 4".
Today I am meanwhile absolutely sure that I am "right", with my definition of popular classical music, also thanks to the high-quality offerings of the specialists in the "WDR 4" editorial department. With that, I feel more comfortable when educators, music connoisseurs, and classical music superfans "rate" my selection. So my two youngest websites can start their way through time and space via the internet with a really good feeling.
Thank you for your reading
Yours, Peter Bach, Jr.
Advertisement
---
33 Bach Calendars, 1 Mozart Calendar, 1 Beethoven Calendar, 33 Composers Calendars, and 10 Pipe Organ Calendars
With your purchase in five shops, you support our Johann Sebastian Bach mission. With a click here, you get there.
---
End of Advertisement